Chiropractic Care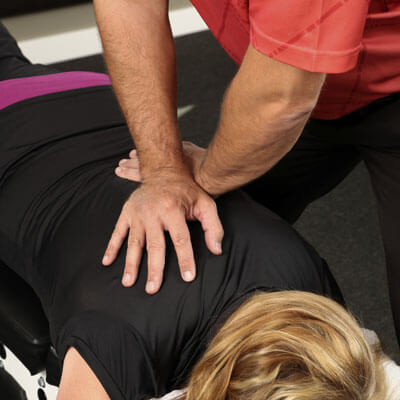 Chiropractic is an art, philosophy and science that's based on balancing the nervous system so it can efficiently and effortlessly regulate your entire body. The purpose of your nervous system is to protect you from the environment so you can adapt to it. When your nervous system functions optimally, you can stay healthier longer and your performance in life is overall better.
Getting Started
When you become a new patient, we will schedule two visits for you. The first one involves an exam, consultation and any necessary X-rays (taken on-site). Dr. Mac also will perform various scans using the Insight™ Subluxation Station. These painless scans include heart rate variability, a thermal scan and a surface EMG.
During the second visit, Dr. Mac will go over his report of findings. He will use the information that he gathered to know where and where you shouldn't be adjusted. For more information about what you can expect as a new patient, please see our New Patients page.
Providing a Customized Care Plan
Dr. Mac will tailor your care plan to fit your health goals. He believes that chiropractic care is beneficial not only when you are experiencing pain, but after the pain has been treated as well. As a result, you should expect to be visiting Dr. Mac up to three times a week when you are in pain.
Once you have reached your optimal health level, you can visit Dr. Mac one or two times a week to maintain your goal health level. Every 12 visits, you will be rescanned and reevaluated to ensure you are getting the best care possible.
An Array of Adjustment Techniques
Dr. Mac is trained in many different adjustment techniques, and he will likely use multiple ones to help you achieve your health goals. Dr. Mac adjusts every patient differently.
Walk-Ins, Consults and VIP Passes
Dr. Mac is happy to accept walk-ins and same-day appointments. Additionally, he will always provide consults, which he requires every 12 visits. Many patients take advantage of MacDonald Chiropractic's VIP Passes which include a consultation, examination, X-rays, an Insight scan and a report of findings for $49.
FAQ
How long will it take to heal?
It depends on the injury you have and how long it has been there.
It's up to you how long you want to be under care. Some people just want to get out of pain and come back when their pain returns. Other patients appreciate the value of maintenance care and want to keep their bodies as healthy as possible with the help of chiropractic.
Yes, Dr. Mac uses very gentle adjustments on children of all ages. Chiropractic is safe for infants and kids.
Yes, we accept most major insurance plans.
Get Started Today
Schedule your visit with our North Spokane practice today to learn about how a custom care plan can enrich your life, naturally.
CONTACT US »
---
Chiropractic Care | (509) 466-1117